Field Day with Edible Schoolyard NYC
As a produce company, we strongly believe that you should eat your veggies. But, we've met our match in Edible Schoolyard NYC. This organization converts kids around the city into produce fanatics, one schoolyard garden at a time. Through their gardening and cooking curriculum, they're teaching a new generation of eaters to appreciate vegetables in communities where access to fresh produce is often drastically limited.
We've been huge fans of Edible Schoolyard NYC since they set up shop in 2010. We support them throughout the year by donating all the ingredients for their cooking classes. Yesterday, though, we rolled up our sleeves and broke a sweat volunteering at P.S. 109 in The Bronx. After three hours, our team had mulched a pathway, built a toolshed and constructed ten benches for an outdoor classroom. We were also thrilled to spend some time with the students, including a brave 5th grader who collected an enormous handful of slugs and name them all "Frank".
The day was a total blast and reaffirmed our commitment to such an amazing cause. Thank you Edible Schoolyard NYC! We can't wait to visit again.
For more information on Edible Schoolyard NYC and how you can get involved, visit their website.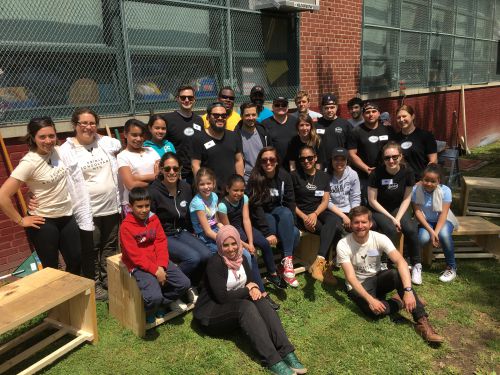 Team Baldor, Edible Schoolyard, and PS109 during our field day.