More About This Product
Baldor is poised to revive this stem lettuce variety. Popular in Asian markets for years, it's just recently catching on with local chefs. While the delicate leaves are edible raw in salads, it's the Celtuce stem everyone wants to experiment with. Thick and juicy, it cooks up like a tasty broccoli stem and even resembles it. You can also slice the stalks raw for salads and garnishes. Be sure to pare down to its tender core before using.
Product Details:

Size: 12 CT
Country of Origin:

United States of America local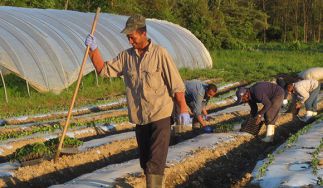 After working in the dairy division at Cornell Cooperative Extension for six years, Zaid Kurdieh and his wife Haifa decided to open their own certified organic farm in 1998. Starting with just a half acre behind their house, their vision of supporting the community has become a reality and now they...
Learn more about Norwich Meadows Farm