This is a nice sized handful of Honeycrisp and, in our estimation, just the right amount. With their super-crisp bite and refreshing flood of acidic juice, Honeycrisp hit all the right flavor and texture notes. You can never get enough of their super satisfying crunch and sparkling taste.
Product Details:

Size: 18 X 2 LB
Country of Origin:

United States of America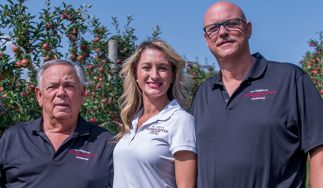 Hudson River Fruit Distributors in Milton, N.Y. is one of the largest apple growers in this region. It was established in July 12, 1963, by Isadore "Izzy" Albinder, along with his son Harold Albinder. Izzy first entered the apple business back in 1932, after immigrating from Russia. He saw an...
Learn more about Hudson River Fruit