Calvin's Peas, Watsonville, CA
Calvin's peas are colorful, delicious and nutritious characters in the narrative of our modern culinary experience.
About Calvin's Peas
When it comes to all things Snap Pea, that seed starts with Dr. Calvin Lamborn, known as the father of the Snap Pea. As a young breeder, with a PHD in plant virology and a keen curiosity that led him to cross a rogue garden pea with a snow pea - Calvin Lamborn created the seed for what we now know and love as the Snap Pea.

Since then, Calvin's Peas have earned prestigious honors and awards in the trade as well as acclaim from top chefs in the country. Calvin's techniques are traditional (non-GMO) plant breeding. And seeds like his are the sparks that have ignited the farmers market and farm to table restaurant movements.

Calvin's Peas is committed to the biodiversity of peas. It is their heartfelt mission to develop new and exciting varieties with the freshest flavor, most exciting colors and textures, all with the use of the whole plant in mind.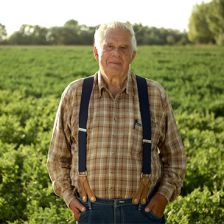 "When I meet someone who is excited about the use of snap peas, it excites me. I'm energized. I feel connected instantly. It's like meeting a long-lost, dear friend. I want to hug you and tell you I love you."

Dr. Calvin Lamborn