More About This Product
Perhaps the most delicately-flavored radicchio, mild Castelfranco has only a slightly bitter edge and a soft, buttery texture. The lovely, plush heads have parchment-thin, pale-yellow leaves splashed with red-pink flecks, and stay loose, so the whole radicchio resembles rose petals as they bloom. This Castelfranco from Kitchen Garden Farm is forced, or grown without exposure to sunlight. This process deprives the plant of chlorophyll, creates the beautiful pale color, and contributes to the tender texture.
Product Details:

Size: 5 LB
Country of Origin:

United States of America local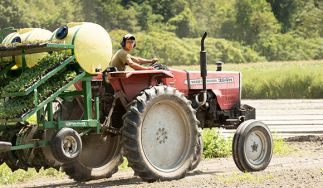 Kitchen Garden Farm is located in the heart of the Pioneer Valley, the prime agricultural region of Western Massachusetts. The farm consists of 50 acres of rich river bottom soil with fields on both sides of the Connecticut River, in Sunderland and Whately. Caroline Pam and Tim Wilcox...
Learn more about Kitchen Garden Farm
Product Unavailable
Select a Substitute item below
KITCHEN GARDEN FARM
Forced Castelfranco Radicchio
ZR3F