Originating in Basilicata, Italy, this long, thin-skinned, bright red beauty is named for the man who brought the seeds over from Italy when immigrating to Connecticut in 1887. It is a tapered, banana-shaped pepper with a rich, fruity- sweet flavor - perfect for frying, drying, chopping into relishes or slicing for salads.
Product Details:

Size: 8 LB
Country of Origin:

United States of America local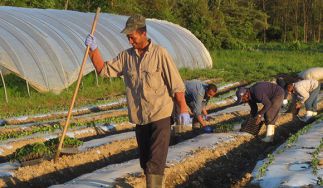 After working in the dairy division at Cornell Cooperative Extension for six years, Zaid Kurdieh and his wife Haifa decided to open their own certified organic farm in 1998. Starting with just an half acre behind their house, their vision of supporting the community has become a reality and now...
Learn more about Norwich Meadows Farm
Product Unavailable
Select a Substitute item below
NORWICH MEADOWS FARM
Organic Jimmy Nardello Peppers
ZPE99J