Lovingly grown by our Amish farmer-friends in
Lancaster County, PA, these collards are medium-large, deep green and firm with slightly ruffled edges.
The leaves are thick and sturdy with a cabbage-like flavor. Cut off the stem tips and pull the leaves upward while holding onto the thick central rib to remove them. Parboil in salted water over high heat for 5 minutes, then cool and cut into 1 inch pieces before proceeding to stir-fry or saute. If cooking into soup, skip the parboil stage altogether.

Product Details:

Size: 24 CT
Country of Origin:

United States of America local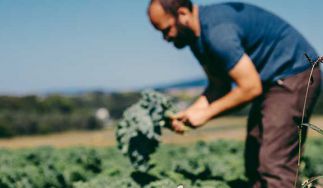 Lancaster Farm Fresh Cooperative (LFFC) is a non-profit organic farmer's cooperative of about 100 small scale farmers working 350 acres in Lancaster County, Pennsylvania. They focus on creating healthy, high quality foods from their strictly maintained and enriched soils on their family... Learn more about Lancaster Farm Fresh