More About This Product
Flavor and nutrition-packed, Hepworth grows this gorgeous organic green kale which is usually cooked before serving. A member of the cabbage family, kale can be somewhat tough and bitter. If you prefer it more mild, remove leaves from the thick stems & blanche to tenderize the texture & tame the flavor. Then sauté with good olive oil & garlic for pasta with potatoes, for bruschetta topping, to mix with rice as a side dish. You can also add to salads if you sliver very finely. Try making a pesto out of the tender inner leaves - using roasted instead of raw garlic for a smoother flavor,
Product Details:

Size: 24 CT
Country of Origin:

United States of America local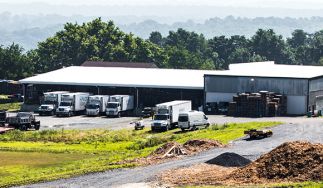 Established in 1818, Hepworth Farms is a seventh generation family-owned farm. Hepworth Farms grows about 400 varieties of vegetables, including about 100 varieties of tomatoes.
Today the certified organic farm is run by twin sisters Amy and Gail Hepworth alongside partner Gerry... Learn more about Hepworth Farms