This is an ancient brassica dating back to Roman antiquity and is grown only in the restricted hills of Creazzo in the Veneto region of Italy. Its season runs from November through February. Fiolaro, like the Tardivo and Castelfranco radicchios from the same area, tastes best after the first frost. This is because the plant protects itself from cold by limiting water intake, which concentrates sugars and salts and enhances tenderness.
Fiolaro looks more like the overgrown wild dandelion shoots we find on our lawns in spring than it does like a head of broccoli. The name fioi means children, and refers to the many dark green shoots that grow along the plant's center stem. These shoots and leaves, the youngest and softest of which are most preferred, are usually parboiled together, strained, then chopped and used in a number of ways. The delicate sweet flavor of Fiolaro works particularly well in soups and custards, with risotto and pasta, in savory pies, or in a simple sauté with garlic and oil.
It is currently the rage all over Italy.

Product Details:

Size: 10 LB
Country of Origin:

United States of America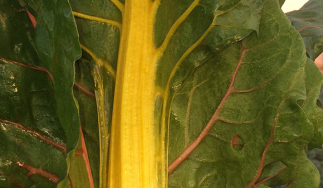 County Line Harvest is a certified organic farm with two locations in California: one in Petaluma, Marin County, and one in Thermal, Riverside County. The farm's name came from their first location which was on the Sonoma-Marin County line. Since its start in 2000, the farm has... Learn more about County Line Harvest