More About This Product
This striking, flame-colored beet is the brainchild of breeder Irwin Goldman. Irwin is brilliant. In many ways, he thinks like a chef, and hes passionate about focusing peoples attention on the characteristics in vegetables that typically go unnoticed. In this case, he wanted to create a visually striking beet, one with a vibrant orange-yellow interior and cylindrical shape. But he also wanted to take on the beets dirty reputation, the earthy flavor that many blame for their beet aversion. It turns out, this signature earthiness is caused by geosmin, an organic compound produced primarily by microbes in the soil, but also by certain plants. Irwin's lab has spent years searching for the genes that produce this earthiness, and, in doing so, they discovered how to change the beet's flavor. Led by Irwin and technician Nick Breitbach, their team selected the Badger Flame over several years, combining laboratory analysis with old-school techniques (read: eating beets raw in the field). The result? A beet that is mild and sweet, and delicious raw. The Badger Flames story continued in the fields of Stone Barns Center for Food and Agriculture, where Farm Director Jack Algiere trialed the beets for several years. His participatory breeding work - studiously selecting the best roots from each crop in tandem with seedsman Matthew Goldfarb - helped to improve the stock seed, year after year.



ROW 7 SEED COMPANY: Founded by Chef Dan Barber, vegetable breeder Michael Mazourek and organic seedsman Matthew Goldfarb, Row 7 is a seed company grounded in the notion that deliciousness can change the world. Row 7 pairs chefs and plant breeders to develop new varieties of vegetables and grains that make an impact in the soil and at the table, striving to make ingredients taste better before they ever hit a plate.
Product Details:

Size: 5 LB
Country of Origin:

United States of America local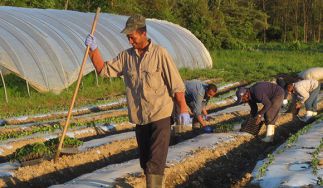 After working in the dairy division at Cornell Cooperative Extension for six years, Zaid Kurdieh and his wife Haifa decided to open their own certified organic farm in 1998. Starting with just a half acre behind their house, their vision of supporting the community has become a reality and now they...
Learn more about Norwich Meadows Farm
Product Unavailable
Select a Substitute item below
NORWICH MEADOWS FARM
Row 7 Organic Badger Flame Beets
ZBEE9B