Grown in a state of the art organic facility in Sacketts Harbor, NY, this local baby arugula is special. The moist, finely lobed leaves have a clean, lightly piquant taste that's distinct, but not overpowering. They're great tucked in sandwiches, added to your morning omelet, or, of course, starring in your salad bowl. The miniscule stems are soft and juicy too, so there's no need to remove them.
Product Details:

Size: 4 OZ
Country of Origin:

United States of America local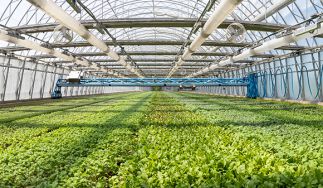 GoodHealthy fresh produce is local and organic - grown year round on the world's most advanced SmartFarm. The farm is certified organic inside and out and only grows healthy food in a way that is good for the environment. GoodHealthy is grown in Sackets Harbor, NY and is shipped to Baldor...
Learn more about GoodHealthy