An exciting alternative to spring mixes, these Baby Romaine leaves are harvested at a small stage of growth. They taste like regular Romaine, but are lighter green in color and a little sweeter and crunchier. Satur Farms' operates on Long Islands North Fork during the summer, and in the mild Florida climate during winter, allowing for year-round supplies of sublimely fresh lettuces and greens.
Product Details:

Size: 5 OZ
Country of Origin:

United States of America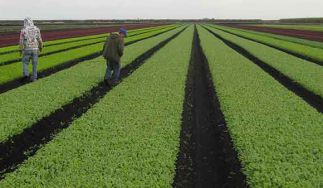 Consider Satur Farms owners Chef Eberhard Müller and his wife Paulette Satur the "salad specialists." They grow the finest baby leaf and leafy greens on their 160 acres of sandy loam soil in Long Island, NY. During winter months, they grow in the mild Florida climate to allow for...
Learn more about Satur Farms