These Collard Greens are medium large and firm with slightly ruffled edges and deep green coloring. The leaves are thick and sturdy and taste more cabbage-y than kale-like. Cut off the stem tips and pull the leaves upward while holding onto the thick central rib to remove them . Parboil in salted water over high heat for 5 minutes, then cool and cut into 1 inch pieces before proceeding to stir-fry or saute. If cooking into soup, skip the parboil stage altogether.
Product Details:

Size: 12 CT
Country of Origin:

United States of America local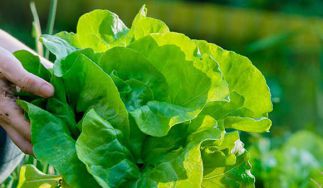 Established in 1984, the Jersey Fresh program was designed to help New Jersey farmers inform consumers about the availability and variety of fruits and vegetables grown in the Garden State. New Jersey is proud of its agricultural background; with its 10,300 farms and 730,000 acres of...
Learn more about Jersey Fresh