Our Jersey escarole is a true find because it has a full buxsom white core which is a measure of sweetness. Blanche or wilt the leaves and saute with garlic, olive oil and peperoncino, then use in a myriad of dishes - soups, pastas, grains, stuffings,etc. You can also sear escarole leaves on a hot, oiled griddle with fabulous results and place the melted leaveson bruschetta with a perfectly poached egg on top. But save the tender core, and the pale yellow leaves clinging to it, for salad - they add gentle touch of bitterness and a creamy, buttery crunch.
Product Details:

Size: 12 CT
Country of Origin:

United States of America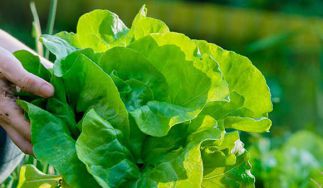 Established in 1984, the Jersey Fresh program was designed to help New Jersey farmers inform consumers about the availability and variety of fruits and vegetables grown in the Garden State. New Jersey is proud of its agricultural background; with its 10,300 farms and 730,000 acres of...
Learn more about Jersey Fresh