These striking, burgundy-tinted baby kale leaves have structure and delicacy in equal measure. The soft leaves need no massaging like mature kale, but will maintain their shape and plate loft - even when pre-dressed. The juicy, thin stems are tender and full of flavor, never to be trimmed off. This newest distinctive baby green from B&W growers delivers all the nutritional power of its full-grown cousin, but in delicate, deeply lobed leaves with bittersweet, slightly nutty flavors. Less bitter than common green kale, you can use Sienna Red Kale for adding vibrancy and color to smoothies, salads, sandwiches, and more. Triple-washed and air-tunnel dried, 100% usable.

Product Details:

Size: 1.5 LB
Country of Origin:

United States of America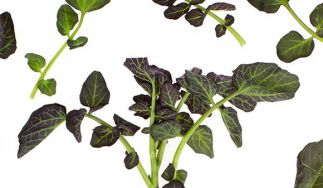 B & W is the world's largest producer of both green and red watercress. They refer to watercress as "the original antioxidant powerhouse" since only kale can match it for sheer nutrient density. This potassium-rich green is also loaded with iron that is easily absorbed by the...
Learn more about B&W