More About This Product
Spigariello is a traditional southern Italian specialty sometimes referred to as a ""leaf broccoli."" It is grown like broccoli rabe in that it does not make a central broccoli ""head"", but the flavor is much less pungent than rabe. The narrow, very dark green leaves develop a wonderful wavy, curvy, twisting form as the plant matures. The hearty flavor is a cross between broccoli leaves and Tuscan kale or collards.


County Line Harvest is transitioning their new land in Thermal, CA to Organic! Started in 2000, County Line Harvest features two farm locations Petaluma (Marin County) and Thermal (Riverside County) in California allowing them to grow their exceptional produce year-round. Up until recently, both locations were certified organic, but as is often the challenge with first-generation farming, Megan Strom and David Retsky had to relocate their Thermal farm to new land. Because this new land isnt certified organic, Megan and David have taken on the critical role of transitioning the land to a certified organic farm. Even though they will continue to grow as they always have, according to organic principles, the produce coming from this farm location cannot be called organic. While the farm is in transition, all product codes will be called Transitional. The season on this farm runs through the winter and into early summer of 2020. By November of next year however, this land will be certified and all of County Lines produce will be organic again. Until then, we are proud of the important work Megan and David have taken on and we are happy to support them in the process.
Product Details:

Size: 12 CT
Country of Origin:

United States of America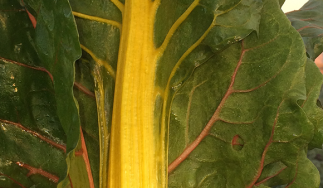 County Line Harvest is an organic farm with two locations in California: one in Petaluma, Marin County, and one in Thermal, Riverside County. The farm's name came from their first location, which was on the Sonoma-Marin County line. Since its start in 2000, the farm has expanded to...
Learn more about County Line Harvest