Rick Pedersen and his wife Laura have been operating their farm in the Finger Lakes region of N.Y. since 1983. Rick spent years developing his special fertilizer mix made from natural products. It's his unique, natural fertilization program that makes his cauliflower taste different from the rest. You'll find it sweeter and less sulphuric than others. Turreted, lime-green Romanescos are autumn's party hat! Cook them simply and often this season to celebrate the bounty of fall.
Product Details:

Size: 9-12 CT
Country of Origin:

United States of America local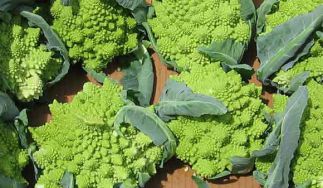 Pedersen Farms is a family owned farm located in the Central Finger Lakes region of upstate New York. The area is well known for its high quality wine, but also is home to many diversified vegetable and dairy farms. Pedersen Farm owners Rick and Laura Pedersen both grew up in the Finger...
Learn more about Pedersen Farms