Whenever you see heirloom artichokes available, know they are the best eating artichoke around. What makes them taste so good is the fact that these perennials take longer to grow (9 months) than varieties grown from seed. While growing slowly during the winter months, the Heirloom artichoke develops a thicker heart, meatier petals and a more intense flavor. Like a treasured family recipe, this unique variety is re-grown from original root stock that was brought to California by Italian immigrants in the 1900's. It has been passed down to each generation of Ocean Mist family farmers for more than 90 years. They peak in March, April and May.
Product Details:

Size: 12 CT
Country of Origin:

United States of America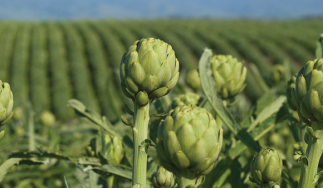 Ocean Mist Farms is one of Baldor's oldest and most trusted purveyors. This family farm has been supplying Baldor with top quality artichokes, lettuces, Brussels sprouts and other fresh vegetable for over 25 years. Ocean Mist Farms is owned by four grower families, headquartered...
Learn more about Ocean Mist Farms
Product Unavailable
Select a Substitute item below
OCEAN MIST FARMS
Red Label Heirloom Artichokes
ART4E