Sfoglini is a Brooklyn based producer of small batch, freshly extruded pastas made from the finest organic flours in America. They use traditional bronze dies which give their pasta a textured, porous surface for your sauce to cling to. They also dry at low temperatures to preserve nutrition and flavor. Plump and round as the end of a zucchini or an open pumpkin, these zucca shapes offer a pasta pocket that fills up with sauce - delivering a perfect sauce-filled bite every time.

Product Details:

Size: 6 X 1 LB
Country of Origin:

United States of America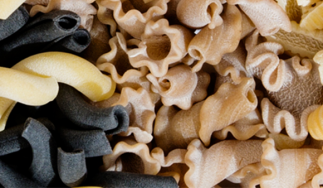 Sfoglini was born from the vision of Chef Steve Gonzalez who has been a part of some of the most formidable pasta programs in New York City: Insieme, Hearth, Roberta's, and Frankies Sputino, and former creative director Scott Ketchum who both talked for years about bringing a superior,...
Learn more about Sfoglini Pasta