More About This Product
In 2021, Armando Manni launched a new organic, extra-virgin olive oil: The Oil of Life. Whereas Per Me and Per Mio Figlio oils are the Grand Cru--the most superior grade of organic extra virgin olive oils, each pressed from a single type of olive--The Oil of Life is a high-quality, antioxidant-rich oil designed for daily use as part of one's rituals for well-being and pleasure. The winner of many gold medal accolades from around the world, this elegant, organic extra-virgin olive oil has a rich mouth-feel and mild yet complex flavor profiles making it a truly versatile extra virgin olive oil that will transform any ingredients in a meal.
THE OIL OF LIFE IS a certified Organic Toscano PGI (Protected Geographical Indication) Extra Virgin Olive Oil (EVOO) grown in the nutrient-rich volcanic soils on the slopes of Mount Amiata, in southern Tuscany. Once harvested, the olives are pressed in a revolutionary mill with zero-waste production facilitated by innovative equipment powered by artificial intelligence.
MANNI is scientifically-certified high in antioxidants and bottled in special 99.99% UV ray resistant glass to protect the antioxidants. The antioxidants in this organic Tuscan extra virgin olive oil fight free radical damage and aging of the body.
MANNI Oil is the only EVOO on the market that's Certified by a university (The University of Florence) and maintains its quality and freshness for over three years; The Oil of Life also boasts Kosher for Passover and Halal certifications.
Product Details:

Size: 8.5 OZ
Country of Origin:

Italy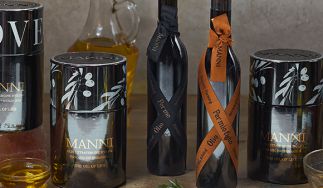 In 2000, passionate gourmet and wine collector Armando Manni founded MANNI® Oil in Tuscany while working with the University of Florence and the National Research Council of Italy (CNR) to create a unique, sustainable process called "Live Oil." Today, MANNI® organic, extra...
Learn more about Manni Oil