More About This Product
Guaranteed fresh 2 days from delivery.

A wonderful assorted (3 dozen) of beloved Middle Eastern savory baked street foods, made with authentic ingredients and first-hand know-how by Chef Phillipe Massoud. Selection includes: Manoushe Bil Zaatar (pita bread with olive oil and their house blend zaatar), Manoushe Bil Jibneh (pita bread with lebanese white cheese and nigella seeds), Lahmajeen (pita bread with ground beef and lamb, garlic, onion, and tomato), Fatayer(spinach pies with pine nuts, sumac, and onion), Cheese Rolls (crispy feuille de brick stuffed with a trio of cheeses and mint) & Fried Kibbeh (spiced beef, burghul, onion, and pine nuts).

Product Details:

Size: 36 PC
Country of Origin:

United States of America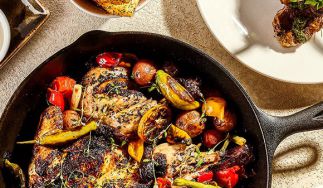 We are honored to celebrate Mediterranean "joie-de-vivre" and share the culture of Lebanon in the heart of New York City. Since 2007, our home in the Flatiron District has introduced the passion and generosity of the Lebanese table to hundreds of thousands of curious diners while...
Learn more about ilili