Guaranteed fresh 2 days from delivery.

Chef Phillipe Massoud thought of everything for his mixed grill dinner. He provides exacting instructions for grilling their chicken and beef kababs, kofta patties, and lamb chops over natural hardwood charcoal in your barbecue, as well as directions for oven-roasting, instead. While those are cooking, you can prep and assemble your Chankleesh, Fattoush, and Eggplant Tartare, quickly, thanks to easy to follow directions.. Also inside this dinner kit: Their hummus, pita, Lebanese rice, harissa, Sumac Garlic Whip, Minted Garlic Whip, assorted pickles, and baklava for dessert.
Product Details:

Size: SERVES 4-6
Country of Origin:

United States of America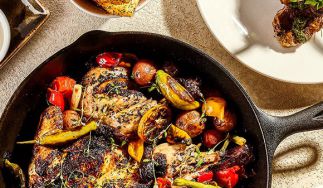 We are honored to celebrate Mediterranean "joie-de-vivre" and share the culture of Lebanon in the heart of New York City. Since 2007, our home in the Flatiron District has introduced the passion and generosity of the Lebanese table to hundreds of thousands of curious diners while...
Learn more about ilili
ILILI
Mixed Grill Kit
BBOXRS92
back
BBOXRS92

This product requires a 0 day lead time. Please be sure to place your order 0 days before your desired delivery date.