Guaranteed fresh 2 days from delivery.

Armed with Chef Phillipe Massoud's crystal-clear, step-by-step instructions, you will end up with a fabulous, Middle Eastern Roasted Chicken dinner. The exciting flavors are a carefully crafted blend of traditional and modern Lebanese cuisine, drawing influences from across the Mediterranean. His quality chickens come pre-brined, and with instructions for oven roasting or grilling, while many of the need-to-assemble dishes, including the Chankleesh, Fattoush, and Eggplant Tartare, come with an ingredient or two already prepared. Also inside this dinner kit: Their homemade hummus, pitas, Lebanese rice, harissa, Sumac Garlic Whip, assorted pickles, and baklava for dessert.
Product Details:

Size: SERVES 4-6
Country of Origin:

United States of America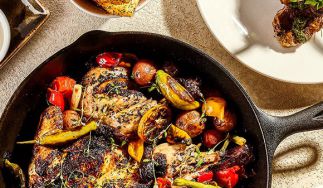 We are honored to celebrate Mediterranean "joie-de-vivre" and share the culture of Lebanon in the heart of New York City. Since 2007, our home in the Flatiron District has introduced the passion and generosity of the Lebanese table to hundreds of thousands of curious diners while...
Learn more about ilili