More About This Product
Guaranteed fresh 2 days from delivery.

Rosie's Taco Kit, made with all the traditional flavors of Mexico, delivers everything you'll need for a festive night. Their appetizing menu begins with three different salsas, all the ingredients to make your own guacamole, and their homemade corn chips. Each entree Pollo Adobado (stewed & fully cooked chicken), Coliflor (roasted cauliflower and poblano peppers), and Carnitas (Michoacán-style braised pork, which contains dairy) is ready to be heated and rolled up in Rosie's handmade corn tortillas. In addition to the mains, this kit includes: 2 avocados (for the guacamole), 8 oz. tomato-habanero salsa, 8 oz. tomatillo-chipotle salsa, 8 oz. tomatillo salsa, 4 oz. diced onion, 4 oz. chopped serrano chiles, 8 oz. chopped cilantro, 8 oz. radishes, 4 oz. pickled red onion & jalapeño, 4 oz. pickled veggies, 4 oz. queso fresco (contains dairy), 20 corn tortillas, corn chips, and 4 limes. Allergens: All items contain onion and garlic; gluten-free. All you'll need from your kitchen is kosher salt and canola oil or olive oil.
Product Details:

Size: SERVES 4-6
Country of Origin:

United States of America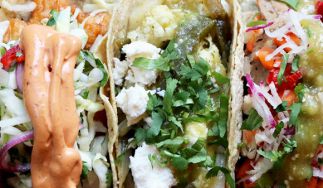 Rosie's is a restaurant that sits on a busy corner in the East Village of New York City. A seemingly unlikely location for a restaurant that takes its inspiration from a country steeped in mystery, tragedy and deep tradition. Attempting to synthesize all that Mexican food is, has left us stateside...
Learn more about Rosie's