More About This Product
Guaranteed fresh 2 days from delivery.

With Seamore's at home meal kits, you can continue to eat sustainably in your kitchen, cook delicious seafood at home, and support your local fishermen and fishmongers. This Salsa Macha braised Shrimp Taco kit ideal for your next Taco Tuesday.

Kit includes: Whiteleg shrimp, Avocado, Flour, Tortillas, Cilantro, Radish, Salsa Macha, Seasame Seeds, Lime Crema, Shredded Green Cabbage and Pickled Red Cabbage.

Product Details:

Size: SERVES 2-3
Country of Origin:

United States of America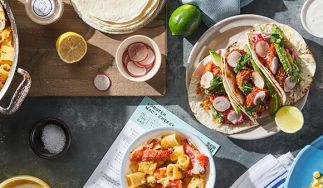 Founded by proud New Yorkers who longed for Baja fish tacos and food connected to American coasts, Seamore's puts the local back into New York seafood. Since it's opening in 2015 by Michael Chernow, this neighborhood favorite continues to serve hyper-fresh seafood and our oceans from...
Learn more about Seamore's
Product Unavailable
Select a Substitute item below
SEAMORE'S
Shrimp Taco Meal Kit
BBOXRS14