More About This Product
These salt water mussels are bivalves with a smooth, blue-ish black shell. Cultivated off the waters of Prince Edward Island in Canada, PEI mussels were first farmed in this nutrient-rich aquatic environment in the 1970's and are prized for their consistent sizing, plumpness, and sweet flavor. These PEIs are beard-less, which makes them easy to clean and prepare. Give them a good scrub with a stiff brush and they're ready to steam. Please note: Mussels that are open before cooking are most likely still alive. Give them a tap either with your finger or on the side of a bowl and wait for the shell to close up. If the shell does not close after tapping, that mussel should be discarded. They should always have a fresh, clean, oceanic smell.
Product Details:

Size: 5 LB
Country of Origin:

Canada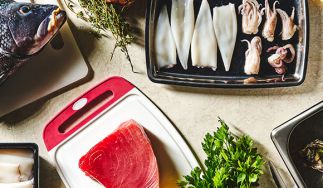 Pierless Fish, Brooklyn's premier fresh seafood purveyor, has proudly supplied New York City's top chefs and restaurants with the highest quality fish and shellfish for over a decade. Founded in 1999 by Long Island native Robert "Bobby" DeMasco, Pierless has from the start...
Learn more about Pierless Fish