More About This Product
A French heirloom potato variety prized by chefs and usually cultivated domestically in the Pacific Northwest, where the climate is similar to Burgundy, France. Farmer Zaid Kurdieh is growing a small crop of them successfully outside of Syracuse, N.Y. La Rattes have thin, shiny skin that slips off very easily and firm textured flesh with a sweet, delicate flavor that suggests chestnuts and hazelnuts.
Product Details:

Size: 10 LB
Country of Origin:

United States of America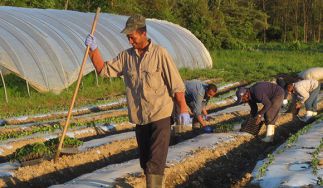 After working in the dairy division at Cornell Cooperative Extension for six years, Zaid Kurdieh and his wife Haifa decided to open their own certified organic farm in 1998. Starting with just a half acre behind their house, their vision of supporting the community has become a reality and now they...
Learn more about Norwich Meadows Farm