An old-fashioned 18th century French apple, with good flavor and appearance. Grown in France for hundreds of years, it has a flattened shape with a russeted, rosy cheek. It has a combination of citrus and nutty flavors, and makes for a good cooking apple as well as for eating out of hand. The famous English food writer, Edward Bunyard, enjoyed his Orleans Reinettes with port wine.
Product Details:

Size: 18 LB
Country of Origin:

United States of America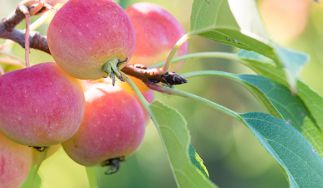 The Scott Farm, listed on the National Register of Historic Places, has been in active cultivation since 1791. This 571 acre farm has been owned since 1995 by The Landmark Trust USA, a non-profit organization whose mission is to rescue important but neglected historic properties and bring them back...
Learn more about Scott Farm Orchard