This is one of the most delightful apples in the world. 200 years ago, Mary Malcomb planted an apple pip, or seed, in her garden in Lamb Abbey, England. The fruit from the tree that grew was crisp and coarsely textured. The flavor is a lively blend of sugars, acids and pineapple, which become more pronounced as the harvest moves later into the fall. A small apple with light green skin with a reddish-orange blush.

Product Details:

Size: 18 LB
Country of Origin:

United States of America local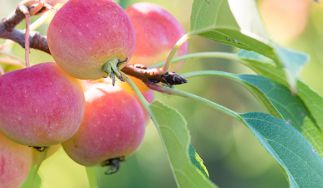 The Scott Farm, listed on the National Register of Historic Places, has been in active cultivation since 1791. This 571 acre farm has been owned since 1995 by The Landmark Trust USA, a non-profit organization whose mission is to rescue important but neglected historic properties and bring them back...
Learn more about Scott Farm Orchard