Strip Steaks go by many names, including Delmonico, New York strip, and club steak, and are one of the most popular of all beef cuts. Joyce Farms' strip is firm-textured and well-marbled, which makes it tender, juicy, and flavorful without too much fattiness. Strip steaks come from the short loin, the most prized part of any steer, and are actually the boneless top loin muscle (basically, a porterhouse minus the tenderloin and the bone). Because you can taste the care that went into developing it, it's easy to savor Joyce Farms' juicy, heritage, grass-fed steak, dervied from cows responsibly raised in North Carolina.
Product Details:

Size: 4 X 12 OZ
Country of Origin:

United States of America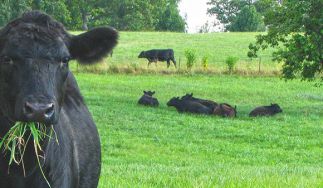 Joyce Farms is a family company in North Carolina, specializing in poultry, beef, pork, and game with robust, natural flavors that far exceed what is available from modern agriculture and commercial factory farming. Their slogan – "Welcome Back to Flavor®" supports...
Learn more about Joyce Farms
Product Unavailable
Select a Substitute item below
JOYCE FARMS
Prime Grass Fed Boneless Beef Strip Steaks 12 OZ
MEBNF1RP