More About This Product
Located about 4-5 hours from NY City, Norwich Meadow Farms, located in the heart of dairy country, uses a proprietary mix of organic micronutrients to produce their exceptionally flavored crops. Their organic Nappa cabbage is sweet and delicate and very versatile. You can cut it into shards or thin ribbons and enjoy it cooked or raw. It will retain a pleasant crunchiness when served raw in coleslaw or salads and melts into soft strands when sauteed or stir-fried. You can't really overcook Nappa cabbage - when slow cooked it absorbs the flavor of its braising liquid (nice to add reconstituted dried porcini!) and remains very digestible. Nappa cabbage is always the base for Korean kimchee.
Product Details:

Size: 25 LB
Country of Origin:

United States of America local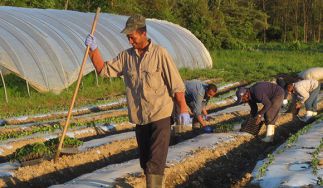 After working in the dairy division at Cornell Cooperative Extension for six years, Zaid Kurdieh and his wife Haifa decided to open their own certified organic farm in 1998. Starting with just a half acre behind their house, their vision of supporting the community has become a reality and now they...
Learn more about Norwich Meadows Farm