Atlantic Veal & Lamb raises their animals with care in a tether-free group environment, and are committed to offering the best meat. They cut and trim their lamb by hand before grinding. Baldor and Atlantic Veal & Lamb are family-owned companies who have been in business together since 1976, when Andy Balducci started stocking their meat at his Greenwich Village store.
Product Details:

Size: 5 LB
Country of Origin:

United States of America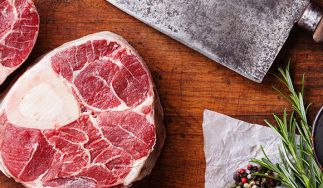 When Andy Balducci first thought of adding a meat department to the new gourmet store on 9th St. in Greenwich Village, he envisioned a one-stop-shop where the finest ingredients for any meal could be assembled under one roof. He had already upgraded Balducci's reputable fruit and vegetable...
Learn more about Atlantic Veal & Lamb