Also known as "scraggly", this is a super-sweet, super-flavorful grape with both european and american ancestry. this variety has a strong concord/candy flavor and high sugar. the grapes are one of the sweetest varieties in the world and often brix over 30-35.
Product Details:

Size: 9 X 2 LB
Country of Origin:

United States of America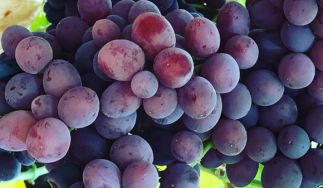 Steve Murray was born into a 7th generation farming family. He was on the path to following those footsteps when he lost his father at the age of 18. At a time, Steve was attending college to compliment generations of traditional knowledge of the land with a degree in plant sciences. This upset...
Learn more about Murray Family Farms
Product Unavailable
Select a Substitute item below
MURRAY FAMILY FARMS
Organic #34 IFG Grapes
ZGRA13M