Like most peaches grown east of the Mississippi, these medium-sized fruits have a less rounded, more pointed shape with a deeper cleft along the pit than California peaches. They are clingstone peaches that eat on the tart side with a refreshing, rather than super-sweet, flavor profile. The skin color tends to be bolder as well. Delicious halved and topped with spoonful of sweet cream or drizzle of fig syrup. Also great eaten out of hand.
Product Details:

Size: 25 LB
Country of Origin:

United States of America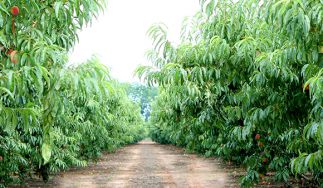 Founded in 1999 by Chalmers and Lori Anne Carr, Titan Farms is a premier grower, packer, and shipper of fresh peaches and vegetables. With core values focused on producing the highest quality produce in the market, you are sure to take home the freshest produce they have available. Today, Titan...
Learn more about Titan Farms