You need a napkin when eating a tangelo. This mandarin/grapefruit hybrid bursts with sweet-tart, tropical-tasting juice. Distinguished by their top knob, tangelos are also known as Honeybelles. These are grown naturally and responsibly at Bernard Ranches in Riverside, California, which is a very small family farm renowned throughout the area for their extraordinary tasting citrus and avocados. These tangelos are unwaxed.
Product Details:

Size: 4 LB
Country of Origin:

United States of America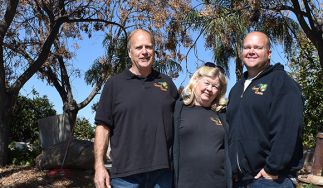 Vince and Vicki Bernard began farming their land in 1979 and have been bringing their produce to market since 1980. Their land is farmed sustainably by relying on the use of beneficial insects, avoiding the use of synthetic pesticides or herbicides, and the use of drip irrigation systems. Their...
Learn more about Bernard Ranches