More About This Product
Though seemingly typical looking, these navels are anything but run-of-the mill. First of all, have a napkin at the ready. Pop a segment or two in your mouth and let the waterfall of juices flow.
Bernard Ranch navels are grown in soil fertilized with seaweed and mushroom compost. That, and the loving attention bestowed on the trees by farmer Vince Bernard, must explain their astounding, tingly, sweet-tart taste. Rich and refreshing at once, they are the paradigm of what a great navel should be.
The membrane girdling each segment is barely able to contain the pulp and juice. It's so thin it literally vanishes. What you're left with is a mouthful of brilliant, luscious nectar that hits all the right sweet/ tart notes in perfect heavenly harmony.
Only available in our area from Baldor.

Product Details:

Size: 38 LB
Country of Origin:

United States of America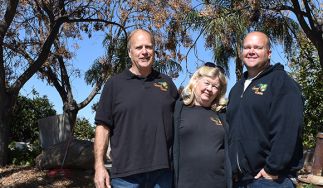 Vince and Vicki Bernard began farming their land in 1979 and have been bringing their produce to market since 1980. Their land is farmed sustainably by relying on the use of beneficial insects, avoiding the use of synthetic pesticides or herbicides, and the use of drip irrigation systems. Their... Learn more about Bernard Ranches