Less tart and with a brighter yellow juice than regular lemons, thin-skinned Meyers are bursting with mild juice that hints of tangerine. Because they're slightly sweeter than classic lemon varieties, and require less sugar, Meyers are the pastry chef's favorite baking lemon. Bernard Ranch grows them organically in soil fertilized with seaweed, and enriched with mushrooms compost in Riverside, California on theirr small family farm renowned in their area for etraordinary tasting citrus and avocados. These lemons are unwaxed.
Product Details:

Size: 4 LB
Country of Origin:

United States of America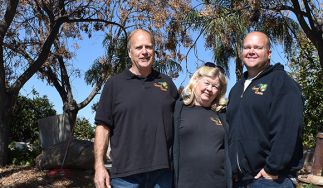 Vince and Vicki Bernard began farming their land in 1979 and have been bringing their produce to market since 1980. Their land is farmed sustainably by relying on the use of beneficial insects, avoiding the use of synthetic pesticides or herbicides, and the use of drip irrigation systems. Their...
Learn more about Bernard Ranches