Tim Stark has been growing a wide variety of heirloom tomatoes at his farm in Hamsburg, Pa. since 1995. His farm encompasses 58 acres, 8 of which are devoted to heirlooms. His thin-skinned mixed cherry heirlooms present like a colorful marble display. Because they are field -grown, they are candy-sweet and taste as eclectic and interesting as they look. Eckerton Hill Farms heirlooms will be available through September.
Product Details:

Size: 12 X 1/2 PT
Country of Origin:

United States of America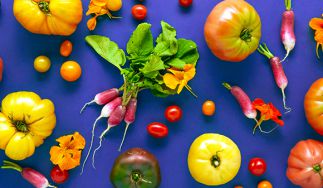 Eckerton Hill Farm has its origins on the rooftop of a Brooklyn brownstone, where owner Tim Stark started his first tomato seedlings 15 years ago. It started with 3,000 tomato plants and 1,000 chili peppers at his apartment building. Eighteen years ago, on a shoestring budget, he finally...
Learn more about Eckerton Hill Farm
Product Unavailable
Select a Substitute item below
ECKERTON HILL FARM
Mixed Heirloom Cherry Tomatoes
HE995