More About This Product
Dr. Ashmead planted an apple seed in his garden in the early 1700s. It grew into a delicious variety that has won the highest awards from the Royal Horticultural Society. Kernel is another term for an apple tree grown from seed, and this one tastes like a crunchy lemon when it's first picked and then the flavor mellows as the sugars develop. Ashmead has a fine grain flesh and is a "high acid, high sugar" apple like a Reinette. Smaller, golden russeted apple often with a red cheek.
Product Details:

Size: 18 LB
Country of Origin:

United States of America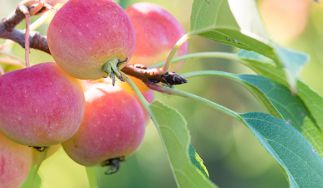 The Scott Farm, listed on the National Register of Historic Places, has been in active cultivation since 1791. This 571 acre farm has been owned since 1995 by The Landmark Trust USA, a non-profit organization whose mission is to rescue important but neglected historic properties and bring them back...
Learn more about Scott Farm Orchard
Product Unavailable
Select a Substitute item below
SCOTT FARM ORCHARD
Ashmead's Kernel Apple
AP99S3