More About This Product
A popular 19th century apple widely grown in Europe at the time, and favored for its versatility. Translated into King of the Pippins, this is a sharp, firm, juicy apple which sweetens in storage. It can be used as a dessert apple but also has many culinary uses. Reine de Reinettes keep thier shape when cooked and have an authentic old-fashioned flavor. The sweet-sharp juice is also perfect for making fresh apple juice and cider.
Product Details:

Size: 18 LB
Country of Origin:

United States of America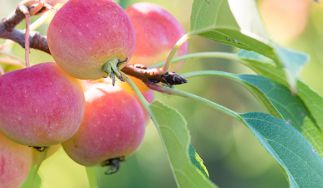 The Scott Farm, listed on the National Register of Historic Places, has been in active cultivation since 1791. This 571 acre farm has been owned since 1995 by The Landmark Trust USA, a non-profit organization whose mission is to rescue important but neglected historic properties and bring them back...
Learn more about Scott Farm Orchard