More About This Product
The best use for this apple is for cooking, though it is admired for eating as well. Introduced in the mid 1800s, it keeps well if refrigerated. It was named after James Fenmore Coopers novel, The Spy, which was very popular during this time. Spys tend to be large, reddish, smooth-skinned apples with bright white, crisp, juicy flesh.
Product Details:

Size: 18 LB
Country of Origin:

United States of America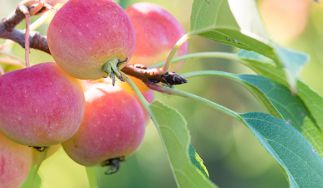 The Scott Farm, listed on the National Register of Historic Places, has been in active cultivation since 1791. This 571 acre farm has been owned since 1995 by The Landmark Trust USA, a non-profit organization whose mission is to rescue important but neglected historic properties and bring them back...
Learn more about Scott Farm Orchard