More About This Product
These heirloom apples are the classic French apple-tart apples - beloved for their firm, fine-grained white flesh and snappy, sour flavor. Calville's have a bumpy shape similar to quince with bright, lime-green skin. The cream-colored flesh is very tart with floral undertones. Aficionados of sour apples enjoy them out of hand but they are mostly used for baking as their hard texture and sharp flavor shines through in any dessert.
Product Details:

Size: 18 LB
Country of Origin:

United States of America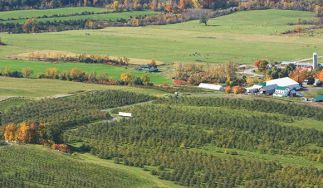 Champlain Orchards is a family owned & ecologically managed orchard overlooking Lake Champlain in Shoreham, Vermont. As one of the oldest continuously operating orchards in Vermont, they take pride in growing over 100 varieties of apples, as well as peaches, pears, plums, cherries, nectarines,...
Learn more about Champlain Orchards
Product Unavailable
Select a Substitute item below
CHAMPLAIN ORCHARDS
Blanc D'Hiver Apples
AP99M