Crisp and tart, the DArcy Spice has a unique flavor that hints at favorite spices such as nutmeg, cinnamon and ginger. This mid-sized apple has yellow to green skin with a red blush and russeting along the top and sides. The fruit originated in Essex, England in the late 1700s and comes to us from Scott Farm, a historically significant orchard that grows over 100 rare varieties of apple. The DArcy is one of their very favorites.
Product Details:

Size: 18 LB
Country of Origin:

United States of America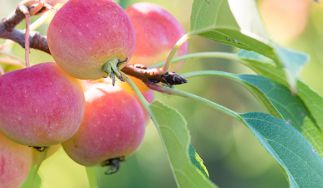 The Scott Farm, listed on the National Register of Historic Places, has been in active cultivation since 1791. This 571 acre farm has been owned since 1995 by The Landmark Trust USA, a non-profit organization whose mission is to rescue important but neglected historic properties and bring them back...
Learn more about Scott Farm Orchard