Grown in NY State, the Jersey Mac apple variety is an early August variety, a cousin of the McIntosh. It's a lighter red than McIntosh, medium sized, with splashes of red and green. Jersey Macs are crisp, juicy, and tart, excellent for snacking and making applesauce. They're also good pie apples but, because their tender flesh cooks so quickly, you might need to add a little thickener.

Product Details:

Size: 100 CT
Country of Origin:

United States of America local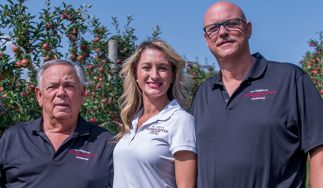 Hudson River Fruit Distributors in Milton, N.Y. is one of the largest apple growers in this region. It was established in July 12, 1963, by Isadore "Izzy" Albinder, along with his son Harold Albinder. Izzy first entered the apple business back in 1932, after immigrating from Russia. He saw an...
Learn more about Hudson River Fruit