Spartan is a small, sweet apple and a favorite with children. It is very much a "McIntosh" style apple with crispy, bright white, juicy flesh. It has a brisk flavor and is commonly used in baking, sauce, and cider.
Product Details:

Size: 12 X 3 LB
Country of Origin:

United States of America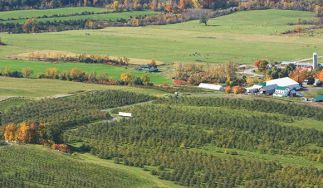 Champlain Orchards is a family owned & ecologically managed orchard overlooking Lake Champlain in Shoreham, Vermont. As one of the oldest continuously operating orchards in Vermont, they take pride in growing over 100 varieties of apples, as well as peaches, pears, plums, cherries, nectarines,...
Learn more about Champlain Orchards