More About This Product
Product will arrive frozen.

M. Wells' famous Meat Pie is packed with 2 pounds of braised grass-fed beef, smoked capon, and juicy heritage pork, along with shredded potatoes, sautéed mushrooms, onions, garlic, and spices. The Quebec Meat Pie, also known as a Tourtiére, is a regal centerpiece for dinner celebrations and perfect for weeknight comfort with built-in leftovers. This pie arrives frozen. Please store in the freezer for up to three months (from the date marked on the box) and bake from frozen.

Chef Hugue and his partner Sarah launched the Meat Pie project out of the back of her car during a freezing winter in downtown New York City long ago. The meat pies that put them on the map are now available during the fall months as the weather cools and the holidays inch closer. From Halal abattoirs to Pennsylvania pastures, we pack these tasty mountains of pleasure with an array of proteins which are smoked, braised, and sautéed. All of it is from farmers we know with excellent stock, growing practices and all are essential agricultural businesses. This dish defines M. Wells: something unique from the kitchen that brings people together. They come frozen so you can order for the future.
Product Details:

Size: SERVES 4-6
Country of Origin:

United States of America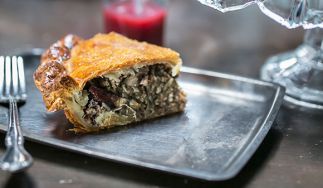 M. Wells debuted in Long Island City, Queens ten years ago when Chef Hugue introduced his deeply satisfying flavors and culinary style to a small pocket of NYC while also attracting steady international crowds. The menu flies around the globe but lands squarely and comfortably within reach of the...
Learn more about M. Wells