More About This Product
Hearth Mills Variety Pack

This 3-pack from Marco Canora includes three separate non-GMO grains that his team mills, and use daily, at Hearth. Hearth is his East Village restaurant committed to market freshness, and real food that smells and tastes delicious. This is a wonderful gift for the baker in your life.


Soft Wheat Flour

Made from Einkorn, natures first and oldest wheat, cultivated by humans over 10,000 years ago. Soft flour is best suited for cookies, muffins, and biscuits.


Hard Wheat Flour

Made from Red Fife wheat, an heirloom variety that most modern hard varieties originate from, which is believed to have come from Canada. Hard flour is best suited for doughs in which gluten development is important.


Ground Corn -

Made from Flint corn, which archeologists have found evidence of dating back to before 1000 BC but, was originally cultivated in the northeast by Native Americans. Use to make polenta, as a coating for chicken or fish, and in cookies, cakes, and pancakes.
Product Details:

Size: 3 X 1 LB
Country of Origin:

United States of America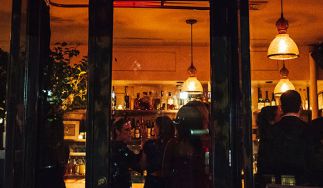 Hearth is the East Village farm-to-table restaurant from Chef Marco Canora, recipient of the James Beard Award for Best Chef NYC 2017. Chef Canora's cuisine, with a nod to Tuscany, employs seasonal, locally-sourced ingredients that taste, look, and smell delicious. Vegetables are crowned supreme on...
Learn more about Hearth Restaurant