Apeel is made of plant-derived materialslipids and glycerolipidsthat exist in the peels, seeds, and pulp of fruits and vegetables. It's a powder added to a water formulation that growers, suppliers, and distributors can apply to the surface of produce that dries into a peel. It physically slows down the rate of spoilage by keeping water in and oxygen out.
Product Details:

Size: 48 CT
Country of Origin:

United States of America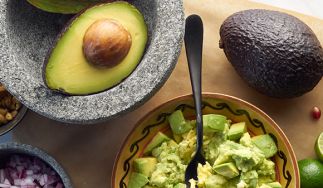 Why Choose Avocados From Mexico?Avocados represent Mexico's authentic heritage in a way that almost nothing else from Mexico can. Through the avocado growing, packing, and distribution process, the avocado growers from Mexico stay true to their essence by integrating good foods into good...
Learn more about Avocados From Mexico