Miso Master Organic Traditional Red Miso is our best-selling miso because it combines the health benefits of long-term aging with a sweeter, lighter taste than our other long-term varieties. It is aged naturally without temperature control for 12 months in our four-ton, hand-crafted Cypress, Redwood, or Fir barrels. The high soybean content in relation to the rice koji (grain innoculated with aspergillus spores) makes it necessary to age this variety through four full seasons because soybeans are more difficult to ferment, with their high protein and fat content, than high-carbohydrate grains. This gives the aspergillus spores and lactobacillus bacteria sufficient time to completely break down the complex protein and fat molecules into more digestible constituents.
Product Details:

Size: 24 X 16 OZ
Country of Origin:

United States of America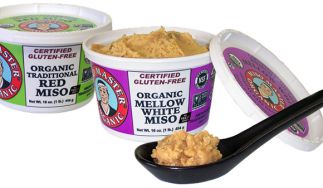 MISO MASTER Miso has been supplying Organic Miso for over 40 years to Fermentation and Natural Product enthusiast. We are proud to be one of the first organic miso makers in the US starting our project in 1979. Miso Master Miso is hand-crafted, traditionally made and naturally aged without...
Learn more about Miso Master