TCHO, Berkeley, CA
TCHO Chocolate Makes Everything Better
About TCHO
When TCHO was founded, we knew we wanted to make chocolate differently.
As part of our efforts to innovate the chocolate industry, we set to work developing a unique sourcing and production model for our chocolate. The result? TCHOSource, an unprecedented approach to producing chocolate in sustainable, ethical, and exceptionally delicious ways.
We partner directly with cacao farmers, cooperatives, and research organizations in cacao producing countries. We combine their extensive cacao producing knowledge with our chocolate making savvy, to co-create the best cacao beans possible. Currently we are partnering with producers and sourcing beans from Ecuador, Ghana, Madagascar, Peru and The Dominican Republic.
We have learned so much from the farmers, cocoa scientists and co-op leaders in all of these countries. We look forward to expanding our sourcing and TCHOSource program to additional cacao producing countries soon!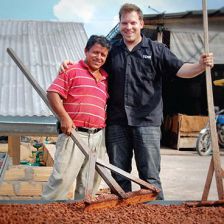 "We started TCHO to make the best chocolate in the world, and do it in a way that actually makes the world a better place. So we treat our growers fairly and we source ethically. We do it because it's the right thing to do. And because it results in better chocolate. And that puts a smile on everyone's face."

TCHO Team
EXPLORE THE WORLD OF BALDOR